Richard Branson brings Israeli water filtering technology to UK
Richard Branson and Ofra Strass have just introduced Virgin Pure, a counter-top "water bar" for the home for the UK market.  The product is based on Strauss's "Tami 4" which can be found in over 350,000 homes in Israel already.  The water bars filter and purify tap water, dispensing chilled or boiling water at the touch of a button.  The water bars are both cost effective and environmentally friendly, doing away with the need for water bottles, plastic waste, and the energy needed to transport water.
Branson cites the English love of tea as one of the expected drivers of success in the UK, as the bar dispenses boiling water instantly, there is no more need for kettles.  Virign sees a market potential of over 10 million British households.
Richard Branson commented: "I love businesses that help to improve our way of life and Virgin Pure's T7 does just that by encouraging people to drink more water in an efficient way. Pure, chilled and boiling drinking water at the touch of a button means no more lugging bottles home, waiting for filter jugs to trickle through or kettles to boil for that great cup of tea."
Richard Branson and Ofra Strauss talk about their cooperation: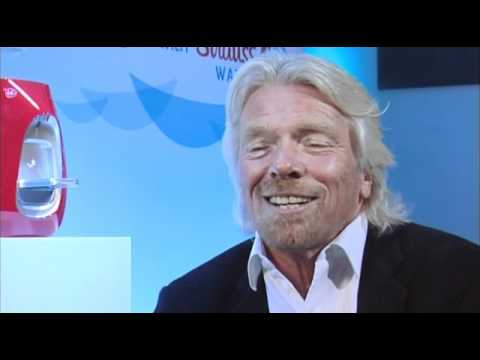 The UK ad for the product: